THE SEVEN YEARS WAR
THE BATTLE OF LEUTHEN 1757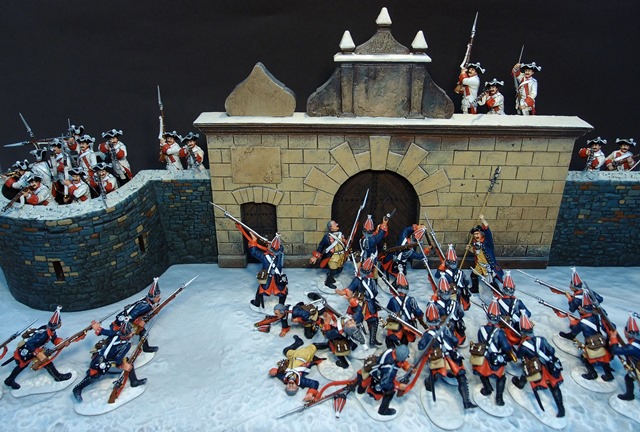 The Battle of Leuthen, fought on 5 December 1757, Frederick the Great's Prussian army used maneuver
and terrain to decisively defeat a much larger Austrian army under Charles of Lorraine,
thus ensuring Prussian control of Silesia during the Seven Years' War.

Of all of his battles, none shows Frederick's military abilities more than the Battle of Leuthen.
His leadership before and throughout the battle show his capabilities as a military commander.
The Battle of Leuthen can truly be considered to be Frederick's masterpiece.



CODE
PRODUCT
LTD
PRICE
LEUT-01
PRUSSIAN GRENADIER ADVANCING #1
-
US$39
LEUT-02
PRUSSIAN GRENADIER ADVANCING #2
-
US$39
LEUT-03
PRUSSIAN GRENADIER ADVANCING #3
-
US$39
LEUT-04
PRUSSIAN GRENADIER CASUALTIES #1
-
US$76
LEUT-05
PRUSSIAN GRENADIER CASUALTIES #2
-
US$76
LEUT-06
PRUSSIAN GRENADIERS ADVANCING #4
-
US$76
LEUT-07
PRUSSIAN GRENADIERS ADVANCING #5
-
US$76
LEUT-08
PRUSSIAN GRENADIERS FIRING
-
US$78
LEUT-09
PRUSSIAN GRENADIERS ASSAULT
-
US$78
LEUT-10
LEUTHEN CHURCHYARD GATEWAY
-
US$138
LEUT-10A
LEUTHEN CHURCHYARD, CORNER TURRET
-
US$76
LEUT-10B
LEUTHEN CHURCHYARD, STRAIGHT WALL
-
US$35
LEUT-11
PRUSSIAN SERGEANT
-
US$40
LEUT-12
PRUSSIAN OFFICER
-
US$40
LEUT-100
LEUTHEN DIORAMA BASE
-
US$138
ROT-01
ROTH WURZBURY FIRING
-
US$78
ROT-01N
ROTH WURZBURY BOX SET
-
US$138
ROT-02
ROTH WURZBURY AT READY
-
US$78
ROT-02N
ROTH WURZBURY AT READY SET
-
US$138
ROT-03
ROTH WURZBURY LOADING & AT READY
-
US$78
ROT-03N
ROTH WURZBURY LOADING & AT READY SET
-
US$138
ROT-04
ROTH WURZBURY 2 FIGURES FIRING #2
-
US$78
ROT-04N
ROTH WURZBURY 4 FIGURES FIRING #2
-
US$138
ROT-08
ROTH WURZBURY INFANTRY OFFICER
-
US$42
ROT-09
ROTH WURZBURY DRUMMER
-
US$42
ROT-10
ROTH WURZBURY OFFICER AND DRUMMER
-
US$79
ROT-11
INFANTRY OFFICER WITH COLONEL' S FLAG
-
US$64
ROT-12
INFANTRY OFFICER WITH REGIMENTAL FLAG
-
US$64






We now accept PAYPAL,
to purchase your figures please send your order by e-mail to
inquiry@johnjenkinsdesigns.com
after checking that everything is available,
you will be billed via PAYPAL.
your order will be shipped on confirmation of payment.
worldwide airmail 15%
(minimum postage us$15)


JOHN JENKINS DESIGNS
UNIT 6E, TOWER 2,
KING LEY INDUSTRIAL BUILDING,
33-35 YIP KAN STREET,
WONG CHUK HANG,
HONG KONG

Tel: 852 9041 9065